Regenerative
Holistic
Agriculture
Daffodil Spring Farm is a community-scale farm located in the pastoral Valle Crucis community of Watauga County.
We raise pastured pork that is Certified Animal Welfare Approved by A Greener World and root crop vegetables. Daffodil Spring Farm practices regenerative agriculture, growing food that is good for the land, animals, and our community. Farmed by Dave Walker, Daffodil Spring Farm complements his local-food system work with Blue Ridge Women in Agriculture and his passion for growing toward a just future. The name of the farm comes from the daffodils that show before our last snow. They're hopeful and tell us that the mountains will soon be green again, full of new vibrant colors.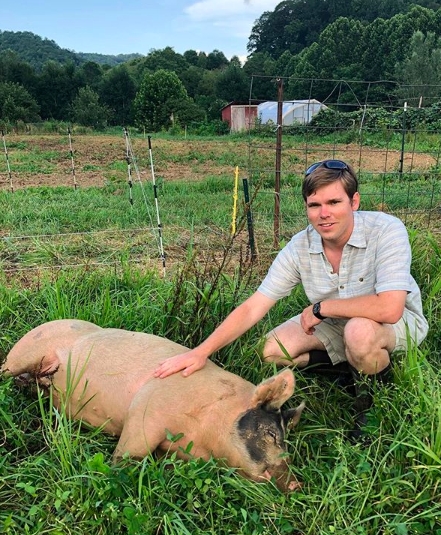 Production Standards
Daffodil Spring practices regenerative agriculture and holistic land management. This means that pigs are frequently rotated every two weeks to fresh pasture. What the pigs have rooted up is sowed with a cover crop mixture of buckwheat, crimson clover, and annual rye in the spring and summer and winter wheat and crimson clover in the fall. This builds our soil and provides food for the animals. It also makes for a pollinator paradise when the cover crop flowers!
Between 2017-2019, Daffodil Spring sourced its heritage-breed pigs from Melinda Brown of Never Ending Farm in Sugar Grove, NC, a Certified Animal Welfare Approved farmer. Beginning in 2019, Daffodil Spring purchased a sow from Never Ending Farm and became a closed herd, raising Tamworth-Hereford cross pigs and Berkshire cross pigs.
To supplement the pigs' food, they are fed a GMO-free feed, by hand, twice a day. The GMO-free feed includes wheat midds, milo, and black oil sunflower seeds and is sourced from the locally-owned Boone Stockyard. The pigs always have fresh, clean water available and ample room for them to root and graze. Feeding them by hand, allows us to assure that they remain healthy and makes them easier to work with and better natured.
We are proud to be Certified Animal Welfare Approved by A Greener World since 2017!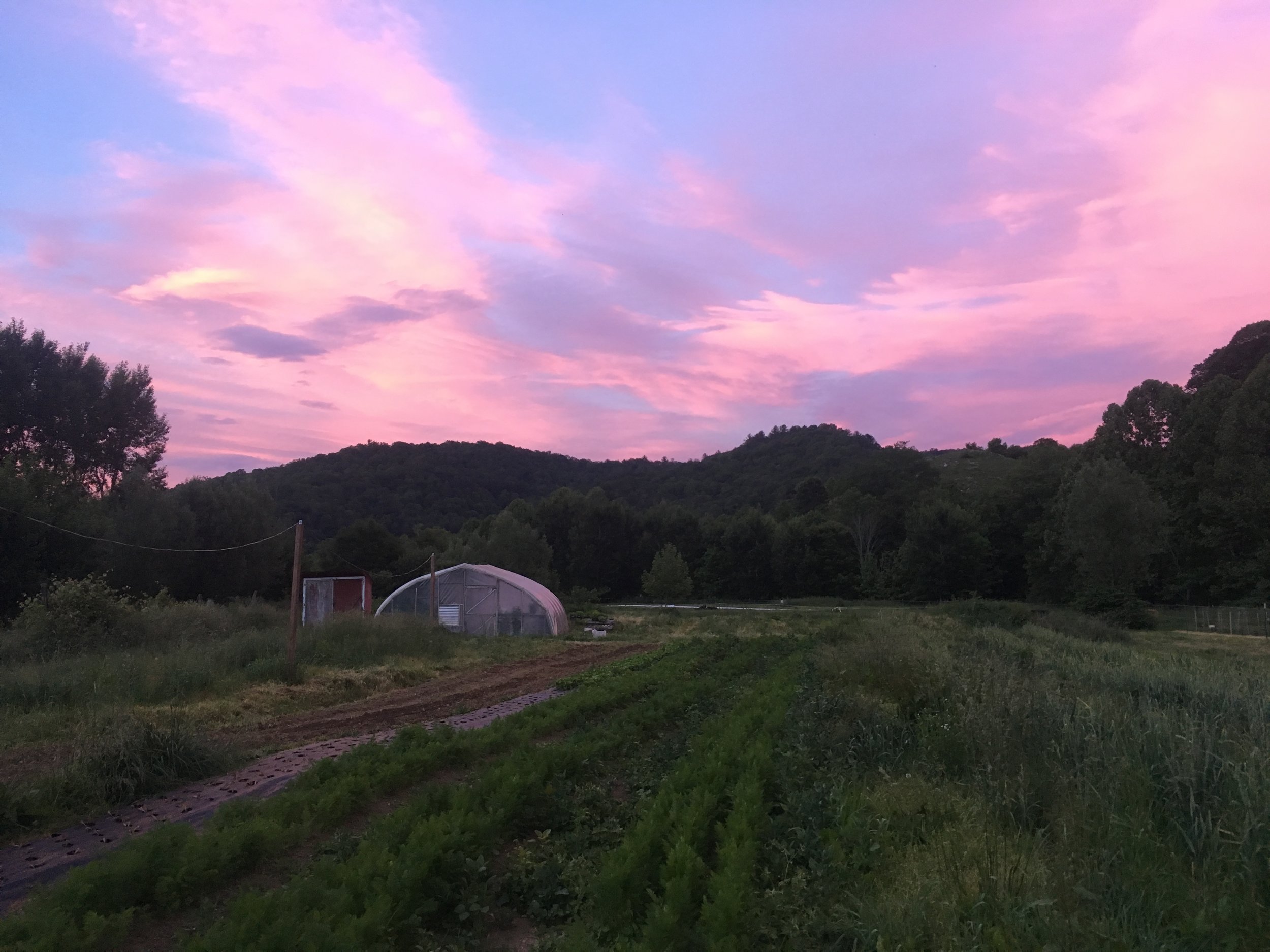 Daffodil Spring leases land at the the FIG Farm in Valle Crucis's pastoral Upper Valley. A part of the High Country of Western North Carolina, Valle Crucis is located about 15 minutes outside of Boone, NC.

The FIG Farm is designed to provide beginning producers with a relatively low-risk entry into farming by providing land, production and marketing infrastructure to help farmers establish lasting farm enterprises in the High Country.
The FIG Farm property is owned by the Valle Crucis Conference Center and is under an agricultural conservation easement with Blue Ridge Conservancy.
Within sight of my grandmother's homeplace, I'm proud to farm at FIG and in Valle Crucis, the heart of the Blue Ridge of the Southern Appalachian Mountains.
Where Can I Find Daffodil Spring Farm?
The High Country Food Hub operates year-around as an online farmers' market for locally-grown food, located at 252 Poplar Grove Rd. in Downtown Boone. To purchase Daffodil Spring Farm products online, please click here.
The Boone Winter Farmers' Market offers an indoor retail space to local farmers and producers during the winter months and provides community members an opportunity to continue to access quality, local products from December through April, when many other venues are not available.
The market takes place at the Watauga Agricultural Conference Center, in Boone, every 1st and 3rd Saturday, 9am-12pm. The Watauga Agricultural Conference Center is located at 252 Poplar Grove Road Boone, NC 28607. Click here to follow its Instagram.
The King Street Market takes place on Tuesdays from 4:00pm- 7:00pm, from May through the end of October.

Located in the grassy area in front of the Watauga County Social Services building and the Watauga County Health Department, it is a stop on the ApplCart route and features an ATM machine.
The King Street Market is located at 132 Poplar Grove Connector # C, Boone, NC 28607. Click here to follow its Instagram.
To place an order, please email: daffodilspringfarm@gmail.com
If you live or work in Valle Crucis, NC, you are eligible for a 5% good-neighbor discount.
If you would like to purchase large orders (+ $150), A 10% bulk-order discount can be applied.
Restaurant and catering orders accepted, please inquire for pricing and delivery options at:
daffodilspringfarm@gmail.com